Description
Manitoba Harvest Hemp Seed Oil is one of nature's sources of Essential Fatty Acids. Containing 2g of omega-3s and 8g of omega-6s, as well as being a source of Gamma-Linolenic Acid (GLA) and Steridonic Acid (SDA). Cold pressed and unrefined.

Manitoba Harvest Hemp Seed Oil has a light green colour and a gourmet nutty flavour, a tasteful compliment to a variety of foods. It can be added to juices, smoothies, soups and sauces to create a rich creamy texture. Hemp Seed Oil is an excellent base for any salad dressing. You can substitute Hemp Seed Oil for other oils in recipes that are not heated above 150 C (300 F). Not recommended for frying.
Features:
Non GMO
Vegan friendly
Contains no additives or preservatives.

Kosher
Recommended Serving Size: 1-2 Tablespoons.
Storage: Product is shelf stable but should be kept refrigerated once opened
Ingredients: Cold pressed hemp seed oil.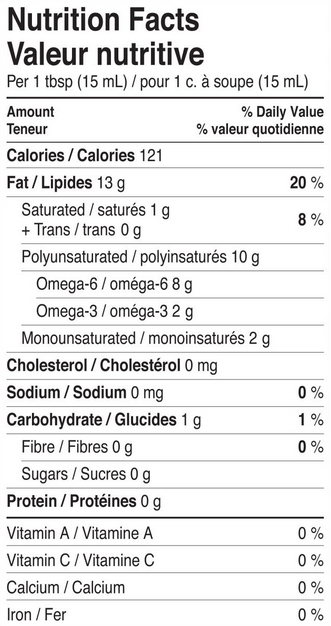 This product is shelf stable and does not require refrigeration until opened.